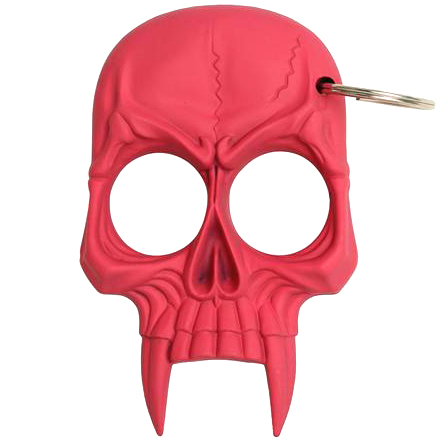 Zombie Skull 2-Finger Knuckle Keychain, Raspberry Pink
Zombie skull 2-finger knuckle keychain, raspberry pink. When you need an easily concealed defensive weapon, this Demonic Skull Self Defense Keychain is the perfect match for you. Featuring a detailed demonic skull design, put your fingers into the eyes and the 1 inch fangs become deadly spikes when clutched into the palm of your hands.
The indestructible poly-resin body makes it light weight and easy to carry around with you as a keychain. It sports a large silver ring to fit all your keys. While definitely giving off a fierce appearance, the keychain looks less threatening than it truly is but will surely provide you with peace of mind. Length is 4 inches, width 2.5 inches, material poly-resin.
Zombie Skull 2-Finger Knuckle Keychain, Raspberry Pink Zombie Skull 2-Finger Knuckle Keychain, Raspberry Pink, PAIR
You Save $16.00 (47% OFF)