Crossbows
Great for Fun, Sport, Hunting, or Target Shooting.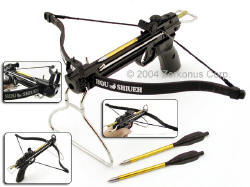 The exploration of the crossbow, a weapon used for centuries, will fascinate historians and enthusiasts alike. The crossbow, probably first introduced to England by the Norman invaders in 1066, was once considered so barbarous that it was prohibited as a "weapon hateful to God and unfit for Christians." Yet it successfully defended many an early Brit and its present-day corollaries are used by sportsmen everywhere. Also carefully considered are the weapons from which the crossbow is thought to have been adapted, including the ballista and similar siege engines.

The fascination of the crossbow is understandable. If you've never shot a crossbow before, you won't believe how powerful they really are. They generate amazing speed and accuracy from such a short stroke, and are far more powerful and accurate than a traditional bow. These models are great for beginners and enthusiasts alike, from rifle crossbows to pistol crossbows, from 50 lbs of power to 150 lbs of power... they are perfect for anyone interested in the exciting sport of crossbows. A great source for weekend entertainment, never get bored again.

You cannot find a better made crossbow at such affordable cheap prices. Great for sport, hunting, target shooting, or just plain fun! Enjoy practicing with your crossbow, develop your marksmanship skills necessary to be a safe and competent shooter. And don't forget, we also carry the most popular accessories for all the models we stock. So, go ahead, have a little fun and order yours today!
Crossbow History:
Literary and physical evidence suggest that the crossbow originated in China during the 4th century BC, though a type of crossbow called the gastraphetes may have been independently invented in Greece at about the same period. It wasn't until the 10th or 11th centuries AD that the crossbow became a significant military weapon in Europe. It passed from general military service in the 16th century, but its use for hunting and target shooting has continued to the present day. More...