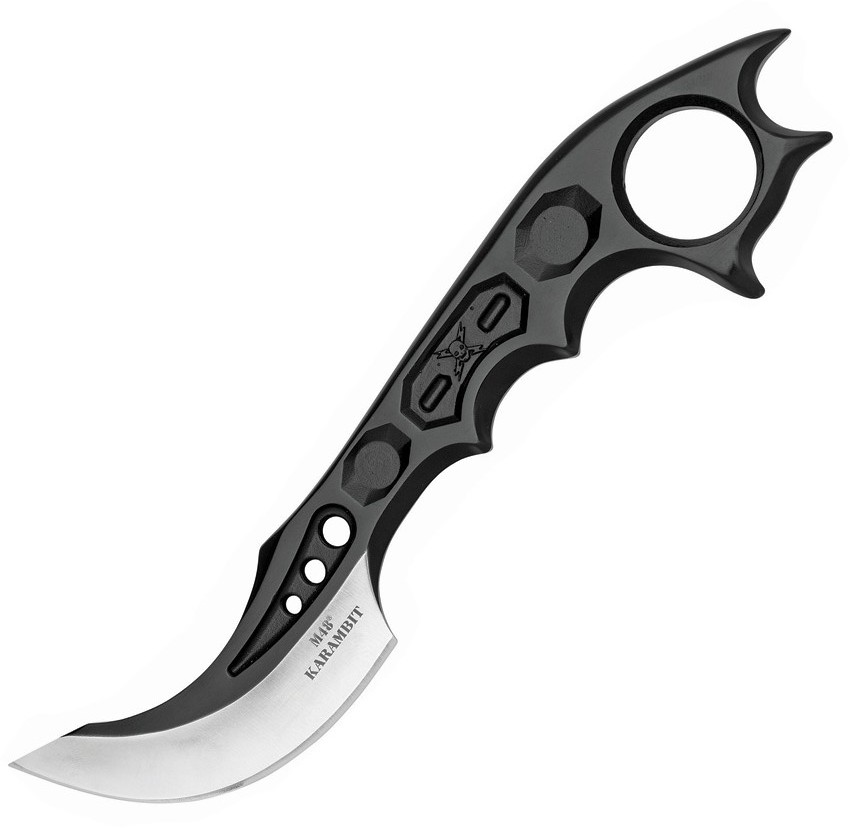 United Cutlery UC3102 M48 Magnum Karambit Knife
United Cutlery UC3102 M48 Magnum Karambit Knife. A magnum-sized, modern update to the traditional karambit design, United Cutlery's new M48 Magnum Karambit is crafted of one-piece, full-tang tempered 2Cr13 stainless steel with a non-reflective, hard coat oxidized finish. The 3 1/2" blade is sharp with a pronounced curve like traditional karambits, but this updated interpretation features larger finger notches for a secure grip that makes it difficult to be disarmed by assailants. This innovative new handle design also incorporates defensive punching and hammer points on the open finger ring, giving you a multi-functional, dynamic tool you won't find anywhere else.
9 1/8" overall. 3 3/4" two toned black and silver blade with drilled hole design. One piece non-reflective, hard coat black oxidized finish 2Cr13 stainless construction. Full tang. Fingergrooved handle. Oversized finger ring pommel with spiked end for defensive punching and hammering. Black flexible TPR belt sheath.
Special Order, please allow up to 2 weeks for delivery!
United Cutlery UC3102 M48 Magnum Karambit Knife
You Save $20.00 (43% OFF)