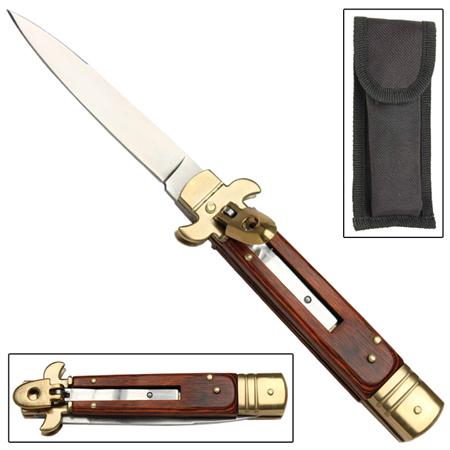 Oak Leverletto Stiletto Automatic Knife
Oak Leverletto Stiletto Automatic Knife. Providing the perfect synthesis of a stiletto and a lever lock, this uniquely styled awesome push lock features excellent workmanship and reliable action. The flat ground stainless blade features a high polish finish, when you press the lever release the action is fast and the lock-up is solid. These knives make beautiful collector pieces and are sure to be a treasured part of any collection. Includes a FREE black nylon sheath with sturdy belt loop.
Overall Length: 7.75 inches
Blade Length: 3.25 inches
Blade Material: Stainless Steel with Silver Finish
Blade Style: Bayonet
Handle Length: 4.5 inches
Handle Material: Wood and Brass Rivets
Includes: Free Nylon Case, Belt Loop.
Oak Leverletto Stiletto Automatic Knife
You Save $15.00 (30% OFF)