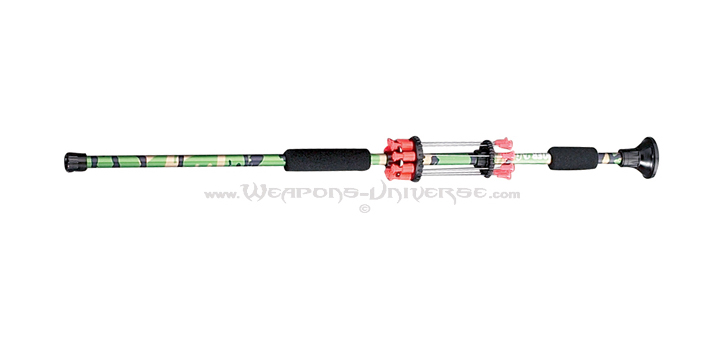 Green Camo Blowgun, .40 Caliber, 24 inches
Green Camo Blowgun, .40 Caliber, 24 inches. Each blowgun comes with 1 mouthpiece, 2 quivers, foam grip, muzzle guard, and 12 standard blow gun darts. The most fun and easy to use blowgun anywhere is the NINJA model. It doesn't take a lot of investment on your part.
The Ninja blowgun line is a deluxe, super safe model. It comes with the two most popular dart types, the target and stun dart. You get 12 target darts, which are sharpened 4 inch needles with a precision cone for ultimate accuracy and performance. These are used for target practice, shooting small game, and for dart board games. Ready for your use on the gun are 2 types of quivers to hold all your darts for quick access. This is an ultra safe model with the safety mouthpiece, to keep you from inhaling the dart, an extra foam grip for an extra secure hold to get the most accurate shot, and the dart guard to keep your hand protected.
Green Camo Blowgun, .40 Caliber, 24 inches