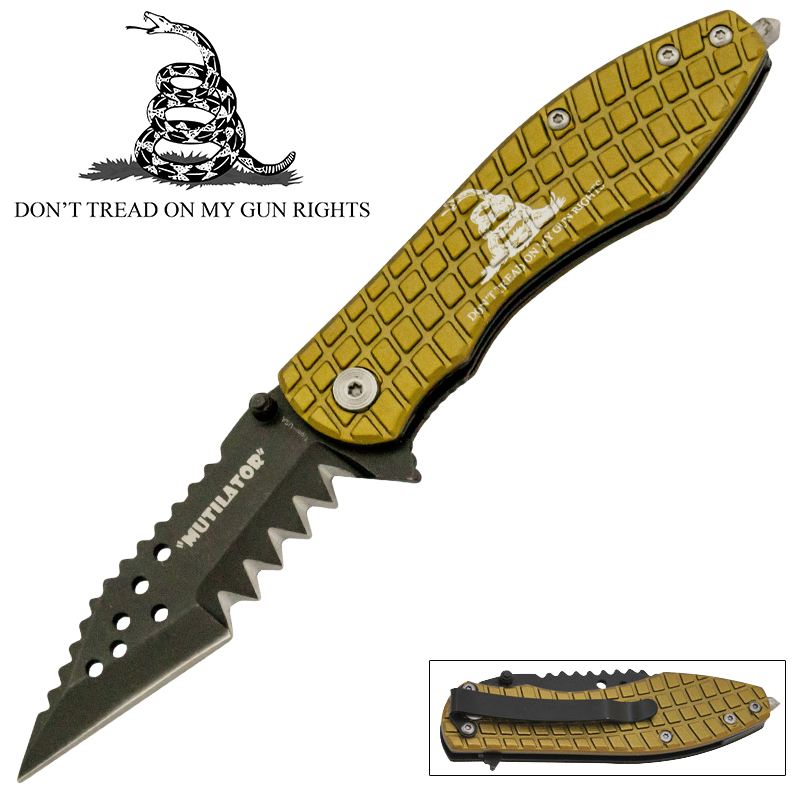 Don't Tread on My Gun Rights Spring Assisted Knife, Yellow
Don't tread on my gun rights spring assisted knife, yellow. The exclusive Mutilator series has everything you need in an EDC: great looks, and reliable function. This model is 7 inches overall with a 3 inch blade featuring Shark Teeth serrations. The back side of the blade is grooved for looks, and added grip when the knife is folded; especially useful when using the window breaker. The holes in the blade make it more lightweight without reducing the blade's integrity. They can also be used to give you a grip on paracord threaded through the blade. The Mutilator boasts a solid steel handle, plus treaded texture for a solid grip. This knife features Trigger Action for quick opening, which can be activated by a blade protrusion or the thumb-stud.Designed in the USA by Retired Col. George Covey.
Designed in the USA by Retired Col. George Covey.
Features Belt/Pocket Clip for Easy Carry.
Solid Steel Handle with Tread-Texture and Emergency Window Breaker.
Trigger Action - Activated by Blade Protrusion or Thumbstud.
7 Inches Overall with a 3 Inch Blade Featuring Shark Teeth Serrations.
Don't Tread on My Gun Rights Spring Assisted Knife, Yellow