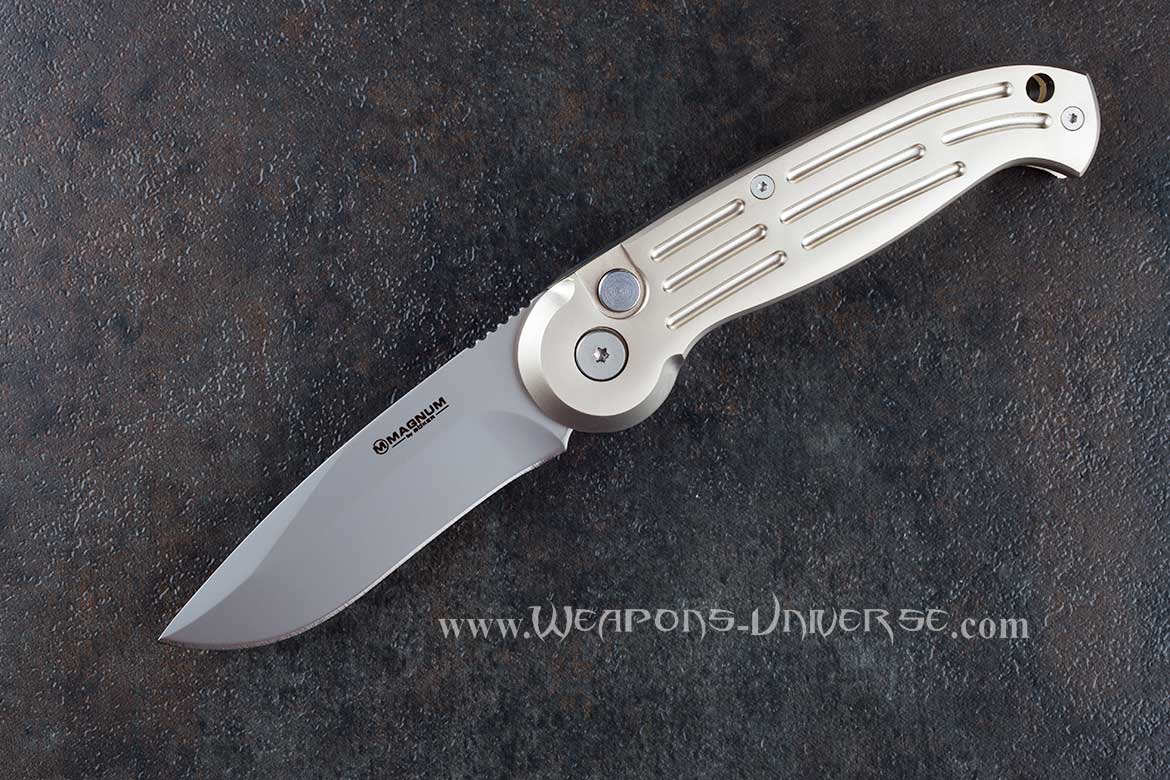 Boker 007 Magnum Clip Point Automatic Knife, Champagne, Plain
Boker 007 Magnum Clip Point Automatic Knife, Champagne, Plain. Classically styled Boker Magnum with sleek and smooth design lines and precise operation. It has the traditional clip point blade with a plain edge for everyday use. The knife pops out of the handle with a lot of force. This is one of the best values in Law Enforcement knives you have seen. The Boker Magnum Auto Series is made by knife craftsmen in one of the most respected knife factories in the world. Boker engineered this knife in Germany, had it made in the Taiwan workshop, then American craftsmen finished them out into one of the highest quality international knives produced for those who serve. The blade is 3-1/4 inch bead blast blade of 420 stainless steel, push button locking system, overall open length is 8 inches, weight is 4.4 ounces.
The Boker Magnum automatic is an exceptional knife for the money. From the moment you first handle the knife you'll appreciate its excellent weight and balance as well as its superb craftsmanship and action. The Magnum automatic knives feature custom springs which deliver a perfect combination of speed and lock-up without damaging the stop pin and bouncing back. They lock up solid and are ready to tackle any job. The 007 Magnum knife features a champagne anodized aluminum handle that is lightweight and grooved. The drop point blade is bead blasted 420 stainless steel for a non-reflective matte finish. The Boker Magnum also features a durable pocket clip for easy carry. Remember, not all Magnums are created equal and we promise you won't find a better Magnum knife anywhere!
Boker 007 Magnum Clip Point Automatic Knife, Champagne, Plain
You Save $35.00 (39% OFF)