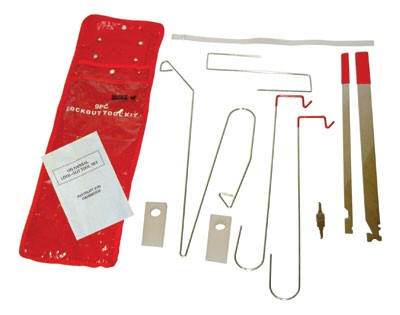 9 Piece Universal Lock Out Kit
9 Piece Universal Lock Out Kit. This Universal Lock-Out Kit comes with a manual that describes how to open most cars on the road today. Plus it has 2 wedges that will save you so much time and trouble you will feel they are worth the price of the kit by themselves!
What's Covered in the Manual? Instructions for opening American Cars including: American Motors, Chrysler, Ford, Lincoln, Mercury, and General Motors.
Includes instructions for unlocking these foreign cars: Alpha Romero, Audi, BMW, Datsun, Ferrari, Honda, Isuzu, Jaguar, Lamborghini, Mazda, Mercedes, Mitsubishi, Nissan, Porsche, Rolls Royce, SAAB, Subaru, Toyota, Triumph, Volkswagen, and Volvo.
9 Piece Universal Lock Out Kit
Please choose a different item.