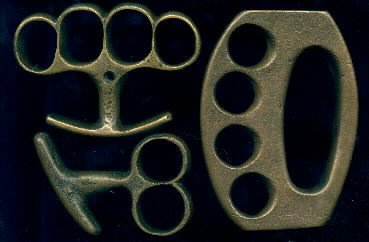 Used as a defensive and offensive weapon, brass knuckles are hardcore fighting tools designed to improve the punching power of the wearer's fist. In a typical fight, participants form a fist by drawing the fingers across the palm and pressing the thumb against the forefinger. The flat portion between the knuckles and the first finger joints form a fairly solid weapon for striking an opponent.

The problem is that the fingers are often jammed into the fleshy part of the palm upon impact and the puncher loses most of the power behind the blow. Brute strength may still win the fight, but there's usually some serious damage to the puncher's hand.

Enter brass knuckles. A typical set of brass knuckles is formed from one solid piece of metal- either aluminum, brass or another alloy. One end is formed into four open loops which fit loosely around the fingers. The other end forms a curve which fits squarely into the closed palm. When a fighter puts his fingers through the loops and allows the curved end to nestle into his palm, the result is a much tighter fist. The fingers cannot be driven into the palm, and the metal grip provides additional weight. This is a distinct advantage against an unarmed opponent.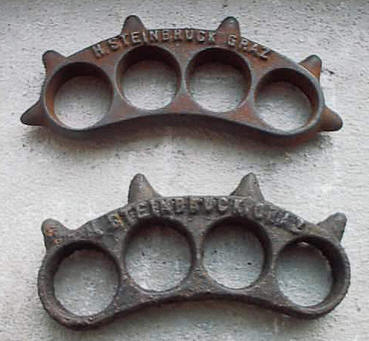 Throwing a punch while wearing brass knuckles requires a different style than the standard forward strike. Fingers could be broken if the punch connects directly. Fighters using Brass Knuckles often use a rolling punch with a glancing blow. This protects the fingers and causes more damage to the opponent. Contrary to popular belief, the brass knuckles themselves only cause secondary damage. The idea is to increase punching power to the fist, not be a weapon in and of itself.
Brass knuckles were actually developed as the handles for military knuckle knives. Spies and other special forces carried knives which had finger holes in the grip. This feature gave added strength to a thrusting motion with the blade. If hand-to-hand combat became necessary, the handle doubled as a form of brass knuckles.
When striking with brass knuckles the best places to hit are hard places, i.e. the outside of the forearm, elbows, knees, shins and the head. Hitting someone in the stomach with them is not using them to their full effectiveness. Ideally no skin should touch the top and inside of the knuckles, and the pinky should not be touching the sides of its slot.
All you need is one good solid punch, and the fight could be over! Seriously! A hit from someone using metal knuckles is usually extremely painful. A hard enough hit to the skull, sternum or spine can cause severe injury, if not death. It is for this reason that brass knuckles are considered to be one of the most effective hand-to-hand weapons that exists to date. If one were to believe in a 'fair fight' then brass knuckles would be the last weapon that is considered in a respectable and fair combat between two individuals on the street as it is not a proof of strength; rather it is an enhancement of the punch. However in saying this, the idea of a fair fight on the street is ridiculed by many and for this reason brass knuckles are regarded as being legitimate for carrying by many street thugs.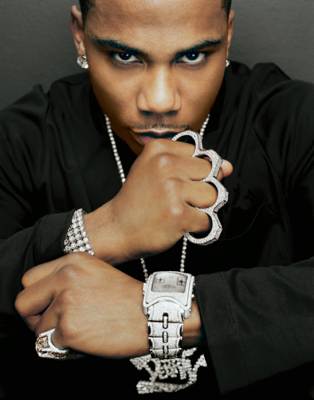 Brass Knuckles Uses:
Brass knuckles have appeared in various movies and TV shows as well. Some recent appearances include a normal pair of brass knuckles wielded on D-Day in Band of Brothers. Professional wrestler William Regal uses brass knucks on occasion and calls the move "The Power of the Punch".
They are popular in the Hardcore music culture, due to the "tough guy" nature of the listeners.
During World War I, brass knuckles were used in hand-to-hand combat in trench raiding operations, and were incorporated into the handle of some trench knives.
On an episode of WWE RAW, Eric Bischoff handed Chris Jericho brass knuckles during Jericho's "You're Fired" match with John Cena. John Cena also occasionally uses brass knuckles; his are engraved with "WORD LIFE".
There are even some martial arts employing this weapon.
In the film Constantine, the main character, John Constantine, uses a pair of holy brass knuckles with crosses etched into them in his fight with Balthazar, and even Angelina Jolie knows how to kick some major ass with her brass knuckles in the movie Wanted.
Besides the obvious uses, our customers have found many different great reasons to own "paperweights". Email us with your ideas. and we'll add them to this section of our website. Got pictures? E-mail them and we'll post them for all to see!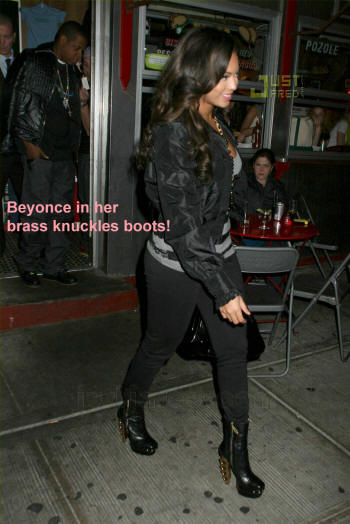 Fashion Accessories: Brass knuckles are very popular luxury apparel among elite and fashionable Gangsters, Hustlers, Pimps, Players and other socialites. The Brass, and Chrome come with studs that screw in to make belt buckles. It's also popular among certain groups (or "gangs") to wear them on a necklace or as a four finger ring.
Auto / Motorcycle Ornaments: Custom Car Owners like to use these reproductions as cool auto ornaments with their cars. There are different colors and styles to match your scheme. They can simply be hung from the rear-view mirror or used as hood ornaments. You place them next to the make and model emblems, use as door handles, mount on the steering wheel, replace the brake release or hood release handles, use as brake, clutch, or accelerator pedals, and motorcyclists like to use them for custom handle grips.
Production Props: Entertainers and Theater Departments will find a million uses as interesting props. Magicians, M.C.s, Comedians, Public Speakers, Actors, Musicians. Give it a try and be creative.
Conversation Pieces: Executives and Salesman have found the rich, exotic reproductions to be great conversation pieces or ice breakers. This site has all kinds of interesting information that you can talk about while getting the ball rolling on negotiations and sales.
Also has many uses:
Paperweight

Necklace

Belt Buckle

Bottle Opener

Ice Smasher
Check out our Brass Knuckles Blog and read our article about Brass Knuckles 2,700 Years Ago and there is another article about knuckle knives. And also if you are interested you might want to read about some Brass Knuckles History.