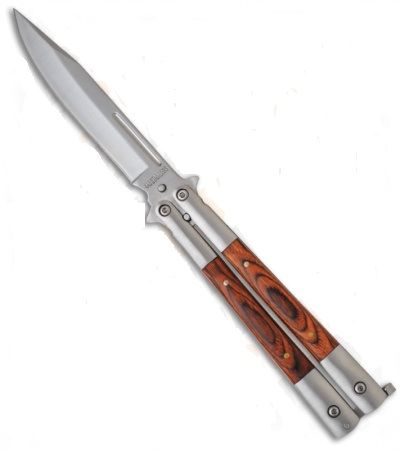 Fanning Batangas Rosewood Butterfly Knife
Fanning Batangas Rosewood Butterfly Knife. A butterfly knife, also known as a fan knife and in the Philippines as the balisong, is a folding pocket knife. Its distinction is two handles counter-rotating around the tang such that, when closed, the blade is concealed within grooves in the handles. In the hands of a trained user, the knife blade can be brought to bear quickly using one hand. Manipulations, called "flipping" or "fanning", are performed for art or amusement. Blunt versions of these knives, called "trainers", are for sale to practice tricks without the risk of injury. Built of study construction with good weight this knife feels pleasing in your palms. The blade is also stainless steel that comes in a drop point style. Just unhook the latch to flip and fan the blade or close the blade up in both handles and lock it up tight. Included is a black nylon sheath.
Fanning Batangas Rosewood Butterfly Knife
Please choose a different item.