The SEAL Pup carries on the tradition of quality and service of the SOG SEAL Knife, the chosen knife of the Navy SEALs. To earn this honor, the SEAL Knife surpassed one of the most extensive testing and evaluation programs ever undertaken by the US Government. For those who want all of the benefits of the original SEAL Knife, but in a smaller version, we have created the SEAL Pup. This stowable blade is an excellent field companion for outdoor and underwater adventures.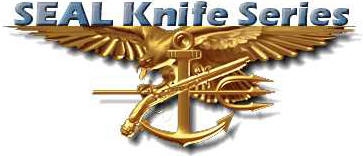 Like its big brother, the SEAL Pup has a partially serrated blade that is powder coated for low-reflection and corrosion resistance. Its lightweight, glass-reinforced Zytel handle features a raised diamond pattern for secure gripping in inclement weather. And like the SEAL Knife, it carries conveniently in a multi-mounting, all-weather military belt and jump-rated Kydex Groove sheath.

Blade 4.75", Overall Length 9", Weight 5 oz, Steel AUS6 Stainless, Powder Coated, Rc 56-58.