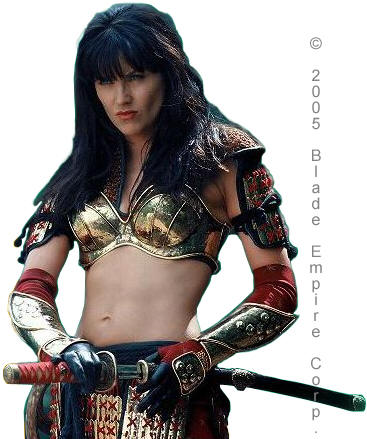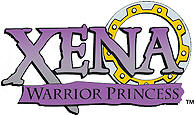 Xena, a mighty warrior and healer, once led a band of outlaws that terrorized all of Greece. She has come to regret the harm she caused and, with her companion Gabrielle, now travels the countryside seeking adventure and fighting the forces of evil.
With the Universal Studios Licensing Inc., Marto has created, in Toledo Spain, the sword of the warrior Princess called Xena.
It's true beginnings are not known. Some believe it's a relic from her broken childhood, a cast-off left behind by her estranged father, Atrius. Others claim a young Xena salvaged it from the ashes of Amphipolis after Cortese and his men completed their savagery.
The paradox is both tales could be true just as easily as they could be false. As the real story behind the sword's origins vanished the moment Xena emerged beaten and dazed from the physical and mental torture of Draco's Gauntlet.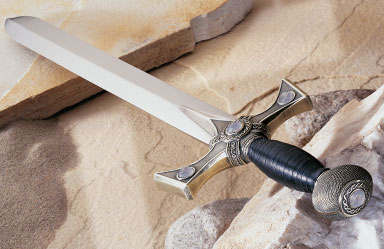 Determined to bury the dark details of her torrid past, Xena relegated the legend of the sword's genesis to the deepest caverns of her subconscious. And... it is there that the truth lay hidden.
Handcrafted for us in Toledo, Spain, by Marto, since the 15th century the most respected sword-making guild in the world, the Xena Collector's Sword carries with it a tradition of unmatched quality and craftsmanship. Beginning with the expertly tempered and hand-polished 420 stainless steel blade, handle and cross this piece establishes itself as a collector's sword of the highest pedigree.
Features beautiful mother of pearl stones on cross and pommel and black full-grain leather wrapped grip. All swords with a certificate of authenticity. Overall sword length, 30-1/2".