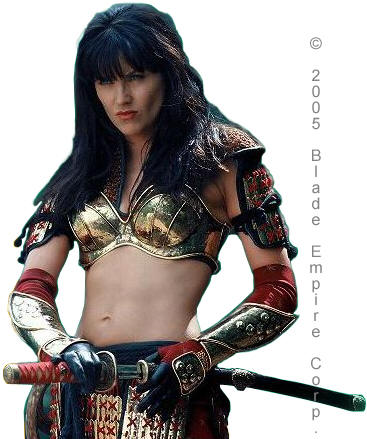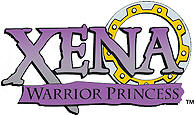 Xena, a mighty warrior and healer, once led a band of outlaws that terrorized all of Greece. She has come to regret the harm she caused and, with her companion Gabrielle, now travels the countryside seeking adventure and fighting the forces of evil.
With the Universal Studios Licensing Inc., Marto has created, in Toledo Spain, the katana of the warrior Princess called Xena.



Handcrafted for us in Toledo, Spain, by Marto, since the 15th century the most respected sword-making guild in the world, the Xena Collector's Sword carries with it a tradition of unmatched quality and craftsmanship. Beginning with the expertly tempered and hand-polished 420 stainless steel blade, handle and cross this piece establishes itself as a collector's sword of the highest pedigree.
Hidden within her magnificently detailed Super Katana lays an arsenal of deadly weaponry so seamlessly blended and cleverly disguised that, without mention, it would go undetected.

Release the stone-topped pommel to reveal a secret chamber for holding poison. From the ornate guard unleash a miniature chakram that, while in place, stores a fully functional blow dart gun. The inventiveness extends as well to the jade green scabbard, which stashes at it's tip a quick-action slingshot.

Super Katana Details:
Secret poison chamber at hilt end
Removable mini chakram
Two-piece blow dart gun tube with dart quiver
Slingshot/catapult at scabbard tip
Blade: Stainless Steel
Blade Length: 25 3/4"
Overall Length: 41 3/4"